Happy Update Day~!

I'm actually going to be on time for this post. Heh. I want to get this down though before I forget.

Before I launch into how I've been doing with my goals, let me tell you about the Got Goals? Blog Hop. It's an awesome, goal-centric blog hop that gives you a community of fellow goal-getters who are chasing after their big (sometimes crazy) goals! Bloggers, it's the best thing since sliced bread. Without this blog, I wouldn't have finished my first draft of my first ever novel—a goal I'd been chasing for 6 years before I stumbled on this blog hop. It works. Trust me.
If you have time to want to learn more about this blog hop, check out our official website/blog HERE, and say "HELLO" to our wonderful host, authors Misha Gericke and Jen Garrett!
*
If you're still with me, I'll mention the March 2018 goals I (forgot) to post last Update Post. (Tee hee.)

March 2018 goals:
☀continue writing the full for Harlequin Romance WIP
☀read at least 4 books from TBR pile
*
Reading:
I read four books in March. Actually, in the last week-ish because I signed up for Kindle Unlimited again. Lots of sexy romances were read and enjoyed over here. I'll list some of the ones I picked up this month down below (in no particular order…cuz I forgot which one I read in what order).
Alexa Riley
Madison Faye
Frankie Love
Penelope Bloom
Aria Cole
I recommend all of these titles. All super sexy novella reads. And KU is such a terrific service (for both readers and writers). And if you want to catch my reviews for some of these books, check out my other blog (as my other persona, Sara Abdul) HERE.
*
Writing:
I'm done with the partial for Harlequin Romance, and I've sent it off. To keep busy while I wait on a response on that, I'm going ahead and completing the manuscript (in case the editors request to see more *knock on all the wood*).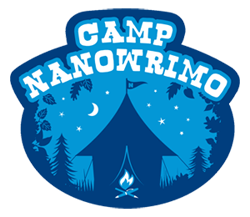 I'm hoping to use CampNaNo in April to fire through most of the manuscript (if not all). I have a cabin that's active. Everyone in there is writing a romance MS for April, and so I'm in good company.
*
That being said, my goals for April 2018 are:
March 2018 goals:
☀continue writing the full for Harlequin Romance WIP for CampNaNo (goal of 25K in April)

☀read at least 4 books from Kindle Unlimited TBR pile

*
How has your March been? Let me know in the comments. I'd love to cheer you on! Let's spring into our Spring goals together!