Happy Lunar New Year!
Time for those resolutions… I'm kidding. I'm not kidding.
It's sort of a remainder that you can start a 'resolution' and its related mini-goals anytime of the year. Why can't it be today? Or tomorrow? Or the day after?
But if you're thinking about it now, start it ASAP.
So last year, Year of the Sheep, was my year. And what a year it was. I didn't get published, but I did accomplish more writing, I went down into an unhappy place of doubt and self-loathing and came back up, and I made some life-long happy memories.
As a Sheep, I'm supposedly peace-loving (check), kind (check — unless you catch me without breakfast, lunch or dinner), and popular (no comment). But we're resistant to change (who isn't?) and stubborn for it (okay, okay, fine).
Monkeys are romantic (swoon), curious (huh huh), and confident (where can I sign up?). That being said/written, they can also be arrogant and selfish (double not-good).
In a way though, I can see the Monkey being my spirit/zodiac animal symbol this year. Why?
I'm a romance writer and working on the whole get-published-make-this-a-career plan. I'm super curious. I remember my mom always pulling me away from places, warning me to watch it with the curiosity before I get my nose chopped off or dumped into 'hot water' for it. And I'd like to be more confident about where I am now — as unpublished, current NEET writer who sometimes freelances, sometimes gets the nerve to hit 'Send' to CPs, publishers and agents*.
Even the selfish part of the Monkey can be handy: I mean, not outside my writing time, but when I'm in the zone I shouldn't feel guilty if I'm laying around a mess. I usually pick up on my chores when I'm free. Or if I'm not always hanging around my family. Again once I'm done with a WIP I usually chill and catch up. So some selfishness might go a long way. Think of it this way: Know when to put yourself first — because there's a right way and a wrong, very no-no way.
So, I'm going to pick me up a Monkey Muse for the next year. Good thing I like my monkeys. Want proof? Here's some of my favourite monkeys:
There!
SIX different Monkey Muses for the reign of the Monkey 2016-2017. I think I'm set. Got myself a great crafty and strong, sometimes selfish, defender against my faceless Internal Editor.
Happy New Year!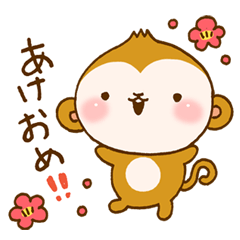 *NOTE: About this, I'm in the middle of polishing up an entry for Harlequin's #MedicalBlitz closing on Valentine's Day.