Update Day!
Hello, world, it's that time of the month. I'm letting you know how I'm doing with my goal to reach 1 million words of "bad" to that first word of "good".
As part of the DO YOU HAVE GOALS? blog hop, I get to update every Friday with my goal, and other mini-goals, and I'm lifted up by 14 other bloggers with similar crazy goals (you go guys!). Hosted by authors Misha Gericke, Jen Garrett and Brittney Woodson, the DO YOU HAVE GOALS? bloggity hop is hopping, guys. It's the place to be if you want to start on those goals (and seriously need the accountability).

If you'd like to be one of us (ONE OF US!), you can go ahead and sign up HERE. The more, the merrier.
Now, back to my goals. How did I do for April, you ask? Let me show you.
First, a remainder of my goals for this month.
April 2017 goals:

continue revision work for WIP titled Ghoul & Alien


read four more books


visit 5 participating blogs/day during the A-Z Challenge madness (that's all of April except the first four Sundays!)
*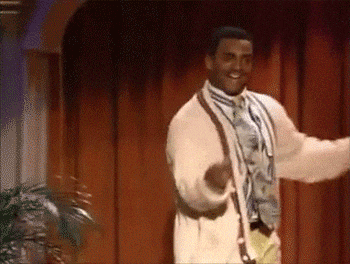 As you can see, I've scratched them all out. Yippee! This must be my first "win" for this year. I've been struggling to stay on track. It's so easy to set these goals for the month, and then have them explode in your face.
Writing update:
So, for my writing goal, I was able to complete my 2nd draft for my WIP, Ghoul & Alien. However, I've since decided I might have to do some major rewrites. You see, Ghoul & Alien is a chapter book ATM, and I started exploring its potential as a middle grade and now I can't get my new outline out of my head. If I DID go the MG-route, then I'd be able to explore more of my characters and their conflicts. Tough decision.
In the mean time, after moping for 2 weeks, I started working on another early reader/chapter book. I love it almost as much as I love Ghoul & Alien.
Reading update:
Reading is coming along. I have to admit that I haven't been reading as regularly these last two weeks. The first half of April was great though, but then I got depressed about my direction for Ghoul & Alien and I couldn't bring myself to sit down and read. So much for escapism…I blame the anhedonia.
Anyways, I got the reading done, and I've got my TBR list from my latest library haul. Again, I'm mostly reading cozies and chapter books (oh, and a bit of contemporary, sexy romance), because they're fun. 🙂
*
So, what does my May look like?
May 2017 goals:

do revision work for chapter book WIP, Sweeter the Scent


read four more books

*
That's it. Keeping it nice and short this coming month. I could do with realigning some of my smaller goals, and making sure I'm still good with the larger ones.
How's your April been? What do you have planned for May?