It's Update Day!
Yaaaay….ehhh.
Lately, as in the past five months, I haven't been too excited for these updates. I haven't been reaching my goals and I feel like I've always got the same excuse: I'm scared to write, even though I need to write to get better (and because it pleaseth my soul) but I'm scared to write so I don't write and then I'll never get better and I'll never be happy. Can seasonal affective disorder come early?
Much sadness.
Yeah, I know I need to pick myself up by the bootstraps or whatever, but it's hard!
I also think I need to calm down about the whole update thing. Stop worrying about not having the greatest news to share *cough,cough*likegettinganagent&signingabookdeal*cough*.
I need to remember that writing was once fun. That it can still be fun! Besides, I completed manuscripts before and the first step IS the first word, not the whole book. I know that; now I have to use it to beat back the Internal Editor. *hissssssss*

I also am easing up on my reading goals. I have no clue how many books I read this year even though I started off with my usual goal of 52-53 books for the year. Again, whatever. I just don't care. I'll reboot that goal next year. For now, I'll read without worrying about keeping score.
Let's get to the updates then!
For those of you interested in our blog hop, Do You Have Goals? –> sign up HERE or click the blog hop's banner above! And give a big "HOWDY" to our hosts, authors Misha Gericke and Jen Garrett.
Wondering how I did this month?
Reading:
Reading kinda flopped this month.
I did read, just not as much as I planned to.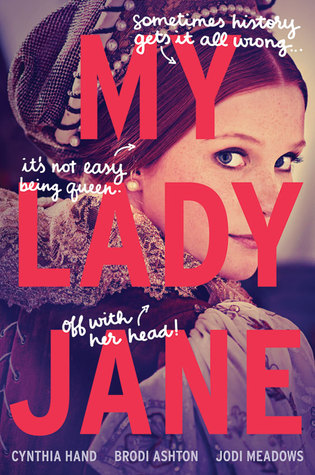 I enjoyed My Lady Jane by authors Brodi Ashton, Cynthia Hand, and Jodi Meadows. If you have the chance, pick this one up. It's part alternative historical, part humor, part kissy-kissy romance, and part paranormal (ooooh, shifters! I mean eðian). You won't be disappointed!
Mistletoe Murder by Leslie Meier is the first in the popular Lucy Stone Mystery series. If cozies are your thing, then you'll be delighted by this older title. I got a different vibe from this one, but it didn't dampen my thirst to solve the mystery.
Slow Dance with the Best Man is the first book in Sophie Pembroke's Wedding of the Year mini-series with Harlequin Romance. It's got a swoony hero, a heroine who doesn't like the spotlight and sweet, escapist romance. What else do you want in a love story?

Writing:
I'm slowly working through a YA mystery. I want to say it's also #ownvoices, but I hesitate. I'd rather just say that the MC/heroine shares the same racial and cultural identity as me. And I'd even pause there.
Anyways, that's my goal.
I actually hope to participate in NaNo this year. I'll be grinding through the first draft of the YA project. *crosses fingers* Not sure how it'll work out, but I won't know until I try.
Which brings me to this month's goals…
November 2017 goals:
☀try to write daily during November – maybe hit 50K on my first draft

☀read at least 4 books (fiction and/or nonfiction)
*
What are your goals for November? Are you considering NaNo-ing this year? What's your plans for All Hallows' Eve?
🎃
Let me know in the comments; I'd love to hear from you! ❤